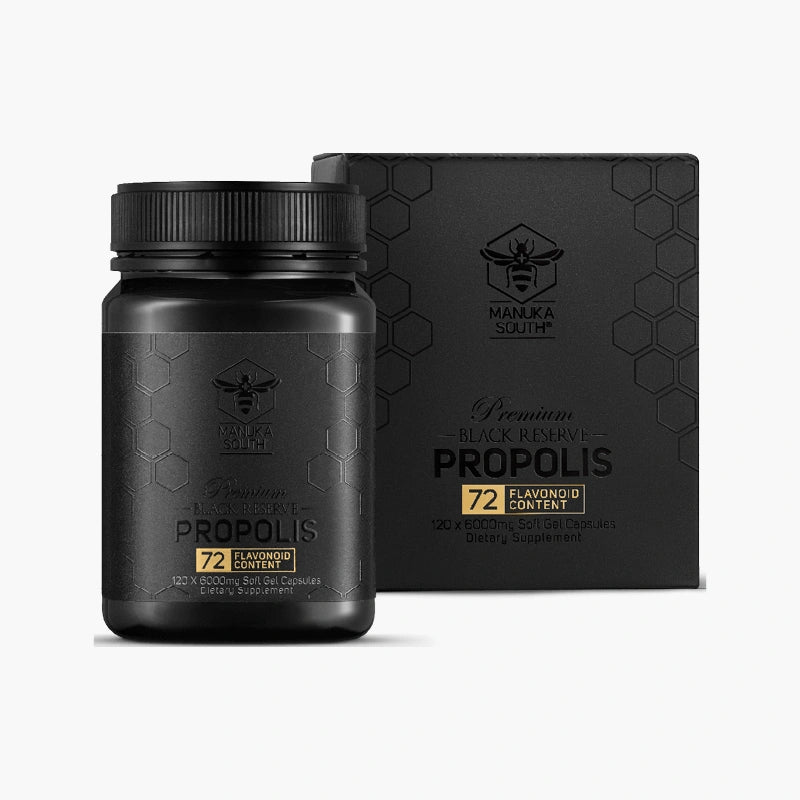 Manuka South Black Reserve Propolis 6000 mg EQV
Sale price
$46.00
Regular price
Created by bees to keep the hive safe, Propolis is a natural substance used to strengthen and protect the hive from diseases. Offering powerful antioxidant properties, it helps to support the immune system with guaranteed flavonoid content. 
Formulated with premium ingredients, our Black Reserve Propolis 6000 mg EQV Soft Gel Capsules deliver a guaranteed superior dose of 72 mg of active flavonoids in a single daily capsule.
Recommended Use & Warnings
Ingredients
Delivery & Returns
Product reviews
Take one capsule daily with or without food. This will deliver 72 mg of flavonoids. Store in a cool dry place below 25°C out of direct sunlight.

Warning: Propolis can cause severe allergic reactions in certain people.

This product is not recommended for asthma or allergy sufferers. Not suitable for infants under two years old.
Propolis powder, d-alpha tocopherol, Lecithin, Soya Oil, Beeswax (Yellow), Vegetable Oil (hydrogenated) Encapsulating materials: Gelatin, Glycerol, Iron Oxide Red, Iron Oxide Black, Water.

Made in New Zealand from imported ingredients.
For all information on New Zealand or International Delivery and Returns policies, please see this page.